How the Right Kitchen Wall Color and The Tailored Window Valances Make For A Spectacular Kitchen Design!
Kitchens are close to my heart! I'm a girl who loves to cook for her family and friends and loves to serve food at the kitchen table more so than the dining room table…but that's not what this story is about…it's not about me and my kitchen love…it's about "her", (name to remain a secret), new spectacular kitchen!
And here is how it started. A new client calls to make an appointment for a "color consultation" for her newly remodeled kitchen. No problem, I'm there! As I stepped into the kitchen my only thought was, WOW…WHAT A STUNNING SPACE! With lots of God-given light pouring softly in through the large and tall windows I fell in love. It felt so clean, fresh and airy with the white and grey veined porcelain counter tops and modern tailored cabinets. And the handsome floors which warmed the space completely! Suddenly it made me want to run home and remodel my own kitchen!
As my eyes fell on the subway tiles that adorned the walls above the counters I knew instantly that wall color just had to be "Revere Pewter" by Benjamin Moore. There really aren't too many colors that can be cool and have warm undertones but Revere Pewter is exactly that. I have been specifying Benjamin Moore colors for my clients for over 30 years and have always loved how this color warms a space without being overpowering!
During the color consultation the client mentions that she'd also like new window treatments for the 3 windows on the curved wall. She explained that she wanted a simple and uncluttered design. So I put pencil to paper and drew for her a window treatment which kept the same un-fussy and streamlined design as her new "spectacular" (her words) kitchen.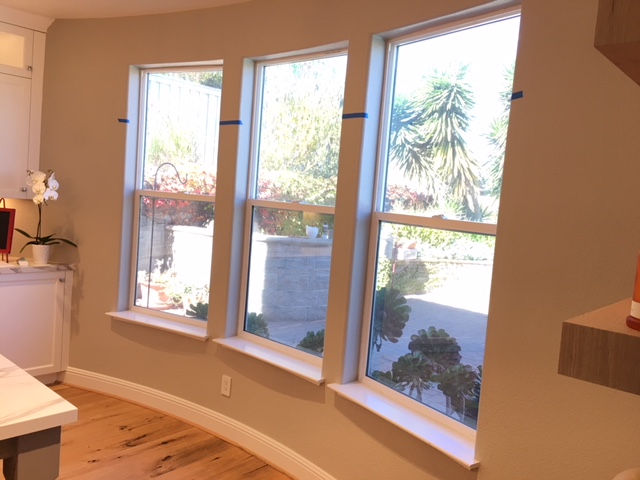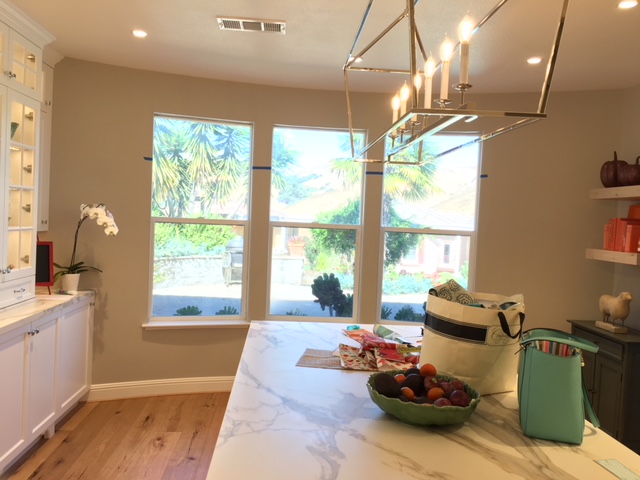 Three individual tailored valances that are placed above the windows on the wall giving the same elegant height as the wall hung cabinets. We chose a soft linen fabric in a coral color print by Duralee Fabrics which coordinated with her accessories she had placed on the shelves. For texture and visual interest we chose a second color, a soft aqua to be the banding framing the valances. My team made a template of the wall curve and custom made the valances to fit perfectly with no light gaps or messy folds. We even added black out interlining in the body of valances so no silhouette of the window opening show through…because when it's custom its perfection!
Fashionably tailored, and loved by her and her family.